Working as a Solutions Consultant in Norway - Interview with Mads Laastad
What is your background?
I am 27-year-old with a background as a MsC graduate in cybernetics and robotics from the Norwegian University of Science and Technology (NTNU). On my spare time I enjoy various activities like hiking, skiing, gaming, sailing, fishing, hunting and hackathons.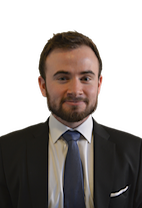 What made you join the company? Joining DWF gave me the possibility to grow and explore new capabilities within all aspects of business. My education is focused on technology, but working with communication, leadership and people has always been an interest that I wanted to explore. I knew that joining a start-up company would be challenging. The reality proved to be challenging, but through all the challenges we grew individually and together as a team. We now have a great team in Norway with a good culture to support each other. Additionally, we have the backing and support from a larger organization spread across the Nordic countries.

What kind of hesitations you had when joining, how was the reality?
At this point in time, DWF was a fresh start-up in Norway. Joining a start-up company is always associated with some risk, but it also gives you the greatest opportunity for personal growth. Additionally, I could see the potential for a great leader and mentor in our country manager Odd-Henrik Hansen. The other work opportunities could not provide me with the necessary trust to try, fail, adapt and succeed at my tasks. Joining DWF was the perfect decision for me and I have never looked back.
What are the best parts of being part of the team?
The best part is the team culture. We all support and enable each other to succeed. One way we do this is through frequent feedback rounds that always focus on constructive feedback. The team is highly resourceful and is quick to adapt to new challenges. We have different backgrounds and draw from each other's strengths.
How is your normal day/week/month?
The beauty of this job is not knowing exactly what's going to happen next. Every single day we get a new opportunity to try something we have never done before. The learning potential  is enormous and the culture is tuned to support a learning mindset. On a "normal" day, I might work with a customer on a project before I go into a sales meeting. Afterwards, I might work on marketing, answer calls from existing and potential customers, perform some administrative tasks before I jump on the opportunity to learn something new from a colleague. 
My message to those considering joining DWF Norway or not:
RPA combined with AI and machine learning will continue to provide value to businesses in all markets in the foreseeable future. Ultimately, what we do is helping people. Automating routine tasks enables people to spend more time on creating value for themselves and for their businesses. At university I was privileged to work with several skilled nurses on my master thesis. They have numerous routine tasks that accumulate and steal time away from a busy workday. We want to help those nurses by automating their routine tasks and enabling them to spend more time together with their patients. Join DWF Norway if you want to find creative ways to help people, grow and learn individually and at the same time be a part of a larger global trend in IT.