Interview with Torstein Granskogen - Being RPA Consultant in Norway

What is your background?
I am a 26-year-old Computer Science M. Sc. graduate from NTNU who joined DWF in November 2017.  I grew up in a farm close to Lillehammer, and I am used to going hiking, herding cows and playing games.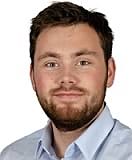 What made you join the company?
I joined DWF because it was an opportunity to try something new. I joined as the 2nd employee in Norway, and after joining I have been exposed to so many facets of working, in both a local start-up but also other sides of being in an international growth company. Compared to normal jobs that people with my education usually get - where you get a specialized role doing mainly the same tasks every single day - I have been able to be part of everything. I did a leap of faith when joining the company, and wanted to challenge myself with something new - something that only a few people are privileged to get.
What kind of hesitations you had when joining, how was the reality?
When I joined, I was a bit reserved when it came to how a team would work with (at that point) only a few people, and how successful we would be in the Norwegian marketplace. I made a leap of faith to join, since I didn't know too much about the industry or the company. The reality was a great team that would help each other, no matter in which country you work in. I have been able to take part in administrative, marketing, sales, development, analysis, events, economical and many other tasks. I have really been trying out so many new things which I didn't think I would try in this industry.  The RPA market is blossoming in Norway, and being part of that journey is something I am looking forward to. 
What are the best parts of being part of the team?
The best thing about being a part of DWF is that everyone does their best to make each other good. We always strive to create the best possible solutions for both our clients, but also for ourselves. The team values feedback, especially constructive feedback. We are also encouraged to try out new things, even though we might not be the best suited ones in the team. There is always room for failure and growth, and we can make the path as we go. I also like the freedom and responsibility we have, and how that creates a dynamic team.
How is your normal day/week/month?
A normal day for me in the office includes a small backlog with tasks that I have, but I am always looking out for new ones. Sometimes I join the team in sales meetings, or I do administrative or development work. This creates a really dynamic weekly and monthly schedule, where I only know the big picture of what I'll have ahead. Small tasks pop up every now and then, and the team completes them based on who is available at that time. Some weeks I work mostly with a single customer, either assisting in sales or in projects, while others are jumping from sales meetings to internal work. It is really up to me what I want to excel at.
Your message to those considering joining DWF Norway or not?
If you would like to challenge yourself, learn new things and have an opportunity to get the broader picture of a company, DWF allows you to try new things with help from the rest of the team, when needed. I can guarantee that you will gain experience in tasks and areas you would rarely get in other companies.